Now with Metamaterial Absorption Technology
Blade
Now with Metamaterial Absorption Technology
Blade
Now with Metamaterial Absorption Technology
Blade
A sound statement. An icon that engages every
sense.
A bold and striking presence, Blade pushes the boundaries of what is possible with sound. The world's first Single Apparent Source loudspeaker now with KEF's innovative Metamaterial Absorption Technology (MAT™).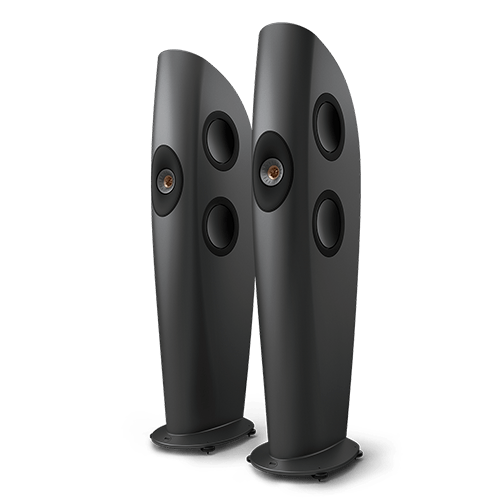 Blade One Meta
HiFi Speakers
Blade One Meta is the top model of Blade, the pinnacle of KEF engineering.
EXPLORE MORE
Blade Two Meta
HiFi Speakers
Blade Two Meta shares the same Blade DNA in a smaller footprint.
EXPLORE MORE
No preconceptions. No restrictions.
In 2009 we gave our engineers free rein to create a speaker to showcase KEF's technology leadership and powers of innovation with no preconceptions and restrictions, they came up with the revolutionary Concept Blade – the world's first Single Apparent Source loudspeaker. In 2011 Blade became HiFi loudspeakers that serious audiophiles could own. But we haven't stopped there.
Uniquely KEF. Uniquely coherent.
At the heart of Blade lies Single Apparent Source technology; a unique technology that aims to achieve the acoustic ideal of a point source, where low, mid and high frequencies radiate from one point. It is what makes the Blade incredibly coherent, with noticeably more precise imaging.
EXPLORE MORE
So pure. So KEF.
The latest version of Blade benefits from our latest acoustic innovation: Metamaterial Absorption Technology (MAT™). MAT™ is a highly complex maze-like structure that absorbs 99% of the unwanted sound from the rear of the driver, eliminating the resulting distortion and providing purer, more natural sound.
EXPLORE MAT
Sit anywhere, hear every detail
Refined through iterations, the Uni-Q® driver array for the latest Blade is the 12th generation Uni-Q® with MAT™. Uni-Q® acts as a single point source to disperse sound more evenly throughout the room. The result is the elimination of the limited 'sweet spot', therefore allowing everybody sitting at different spots in the room to experience and enjoy the same natural, detailed sound.
EXPLORE UNI-Q
Performance by design
With the philosophy of innovating in pursuit of the most accurate and realistic sound, Blade is about perfecting a groundbreaking concept to delight people with the ultimate listening experience.
Power in control
Blade's four powerful low frequency drivers are mounted back-to-back to cancel out kinetic forces that might otherwise colour their output. The result is cleaner, purer sound, and astonishing low-level resonance.
Cutting edge sound
Blade's four powerful vented bass drivers are perfectly integrated with the 12th generation Uni-Q® with MAT™ to deliver clean, immaculately controlled bass. The crossover design in the latest Blade has been enhanced to fine-tune the signal path for maximum clarity.
Discrete chambers for pure sound
On Blade, each pair of low frequency drivers is located in its own chamber. This approach reduces the potential for interference between the drive units, while also reducing the need for damping, which can impair bass quality.
Made in Maidstone, UK
Since 1961, we have been creating remarkable award-winning loudspeakers at our UK home in Maidstone, Kent. As our flagship HiFi speakers, Blade is still being designed, engineered, and handcrafted in Maidstone today.
The first Blade
Our in-house KEF product design team initially worked alongside Eric Chan of ECCO Design to create a distinctive visual identity to match Blade's towering performance. The resulting cabinet form was inspired by Brancusi's seminal modernist masterpiece 'Bird in Space'. Tapering gracefully from top to bottom and from front to rear, the slim proportions made possible by the orientation of the bass drivers give Blade a sculptural presence in its own right.
Finished to Perfection
Blade is available in a palette of eight finishes, created by blending five cabinet finishes with six Uni-Q® driver cone colours. You can choose from three high-gloss cabinet finishes with corresponding Uni-Q® driver cone colours: Arctic White/Champagne, Piano Black/Copper, Piano Black/Grey, and Racing Red/Grey; or from two matte satin cabinet finishes with corresponding Uni-Q® driver cone colours: Charcoal Grey/Bronze, Charcoal Grey/Red, Frosted Blue/Bronze, and Frosted Blue/Blue.
Limitless Choice
Looking to make a distinctive statement with Blade or looking for the perfect colour match for your listening room? You can simply create your own customised colour scheme by supplying a Pantone of your choice for the speaker enclosure to match with any of the six standard Uni-Q® driver cone colours.
ENQUIRY
Experience Blade
The proof is in the listening. Hearing Blade in all its glory is the only way to appreciate exactly what this loudspeaker is capable of.
EXPLORE MORE