全球首款應用 Metamaterial 的揚聲器
LS50 Meta 應用了革命性技術,將純淨動人音色完全呈現,締造彷如置身現場的音效。配備 Metamaterial Absorption Technology 的第 12 代 Uni-Q 同軸共點單元,還原度更精準,體積小巧的 LS50 Meta 也能使房間的任何位置成為最佳聆聽位置。
Guaranteed KEF quality
Each KEF Certified Refurbished Product undergoes a rigorous certification process to ensure both performance and quality are up to our exacting standards. They are also covered by the same warranty terms and conditions as our new products.
EXPLORE MORE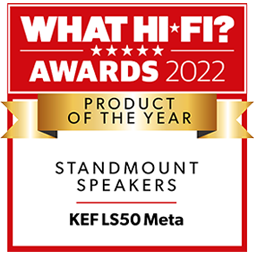 What Hi-Fi? Awards 2022 - 年度產品大獎
"KEF has taken an excellent speaker and made it even better with its innovative Metamaterial tech. The LS50 Meta are now the class leader at this level." - October 2022, What Hi-Fi?
專業評語
---
音效
準確、渾然逼真
Metamaterial Absorption Technology 能消除 99% 於高音單元後方所產生的高頻雜訊,帶來更清澈、純淨的真實音效。 配備 Metamaterial Absorption Technology 的第 12 代 Uni-Q 同軸共點單元,帶來超乎想像的精準音質 單元設計加以優化,強化聲波傳遞路徑、降低失真、減少雜訊 專利彈性反射孔,可減少中音雜訊,將音色深度與細節提升至全新層次
---
設計
細節完美呈現
音箱設計加以優化,演繹完美無暇的音韻
4 款顏色選擇
內附固定嵌件,可連接於 KEF S2 腳架(需另行選購)
細節
---
技術規格
型號
240 x 155 x 180 mm (9.5 x 6.1 x 7.1in.)
單元
Uni-Q 驅動程式陣列:
高音單元: 25 毫米 (1 吋) 鋁製通風式球形單元搭載 Metamaterial Absorption Technology
中音/低音單元:130 毫米 (5.25 吋)鎂鋁合金錐體
頻率響應範圍 (-6DB)
47 Hz - 45 kHz
頻率範圍典型室內低音響應 (-6DB)
26 Hz
頻率響應 (±3DB)
79 Hz - 28 kHz
諧波失真 (90DB, 1M)
<0,4% 175 Hz - 20 kHz
<0,1% 300 Hz - 10 kHz
Dimensions (H x W x D) with Terminal*
302 x 200 x 280.5 mm (11.9 x 7.9 x 11.0 in.)
*單支測量
Metamaterial Absorption Technology 是一項與 Acoustic Metamaterials Group 聯手研發的頂尖技術。
---
獎項和專業評
---